Attractions>
Stay and Play in Red Lake!
There's so much to do in Red Lake!
Scroll down for more information
There is so much to see and do in Red Lake! 
Red Lake is a warm and welcoming community that thrives on a relaxed pace of life.  Located right in the heart of nature, relaxation comes naturally in Red Lake.
Natural adventure opportunities exists all around Red Lake, including hiking, swimming, sightseeing, bird watching, kayaking and canoeing.  Red Lake itself has over 500 miles of rugged beautiful coast line to discover and the community is surrounded by countless unscathed lakes and water systems.  Red Lake is known for its trophy size walleye, northern pike, whitefish and trout.  If you are interested in fishing the waters there are many multiple boat launches and docking locations available throughout the Municipality.  While you are out on Red Lake why not check out the West Red Lake Mining Museum.  Accessed only by water this volunteer-run museum tells the stories of Red Lake's rich mining history.
Red Lake is the gateway to the pristine Woodland Caribou Provincial Park, which is located within the UNESCO World Heritage Site, Pimachiowin Aki (translated "The Land that Gives Life").  This park is every paddler's dream boasting nearly 2,000 km of pristine canoe routes and 1,500 remote canoe-in campsites among countless lakes and rivers.  Air transportation is available via Red Lake's Airport.
Not only do we pride ourselves with our pristine natural environment there are many other recreation amenities available for all ages and abilities to enjoy such as Ontario's most northern 18-hole golf course and the many beaches and parks.
Red Lake is proud to be the home of the Red Lake Miners, a Junior A hockey team of The Superior International Junior Hockey League (SIJHL) and the 2021-2022 Regional Champions of the Bill Salonen Cup.  Take the time to catch a game and be prepared for some super skilled and exciting hockey!
It wouldn't be a complete trip without a visit to the Red Lake Regional Heritage Centre where one can peruse the many collections and interactive exhibits relating to the history of Red Lake.  You may also want to take a virtual historic tour throughout Red Lake via On This Spot.  Here you can visualize Red Lake sites with a "then" and "now" lens.  Check it out here.
For more information on hotels, outriggers, leisure, travel, and planning your stay please visit Highway 105 Tourism and Marketing Board website.
ROCKS AND GEOLOGY OF THE AREA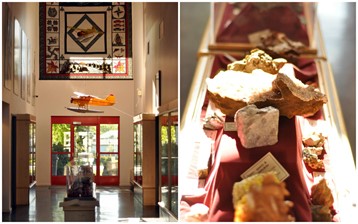 If geology and rocks is your thing, the Crull Rock Collection is located at the Municipal Office in Balmertown.  Rocks and minerals were collected for years by local geologist, Erle Tulluch Crull and was generously donated by his family after his passing.  There are over 2,600 specimens of various rocks and minerals to view, including a real gold sample! Additionally, the Ontario Geological Survey h
as a Resident Geologist Program office in Red Lake, located at 227 Howey St. on the First Floor. The Resident Geologist Program has 7 mandates:
promote and stimulate mineral exploration;
maintain and provide public access to geoscience data and other resource materials;
monitor and report on mineral exploration and development activity and issues affecting the minerals sector;
provide geoscience information and knowledge for land-use planning;
provide and/or participate in public forums to promote Ontario's minerals industry;
deliver prospecting courses and public information sessions; and
engage and build relationships with Indigenous communities.
The office also has a wide range of select rocks and minerals for viewing and a large catalogue of maps, documents, theses and assessment reports. More information can be found at the website Ontario Geological Survey - Resident Geologist Program or you can call the office at (807) 727-3272.
This festival held Family Day weekend is an excellent way to enjoy winter in Red Lake!  This 4 day events features numerous events and activities for the whole family ⇒ pond hockey tournament on Howey Bay, curling on Howey Bay, cardboard box sled contest and race, dog sledding on Howey Bay, snowmobile racing and poker derby, ice fishing tournament, cross country ski loppet, vendors, family activities and entertainment.
Check out the Red Lake Winter Carnival's Facebook page for details
This family ice fishing tournament is held along the shores of McKenzie Island just a quick drive on the ice road.  Hosted by the local Gyro Club, this event is fun for the whole family complete with bonfires, hot chocolate and food.
Hosted by the Red Lake Anishinaape Pow Wow Circle, this two day family event showcases Red Lake's indigenous culture and history.  This event is held at Keesic Beach - a traditional gathering place of the Anishinaape people along the shores of Red Lake. There is dancing, drumming, food vendors and a community feast.  Everyone welcome!
For more information visit the Red Lake Community Pow Wow Facebook page.
The annual 3 day Festival is held at Phillip Thomas Vinet Centennial Park.  There is a mix of activities for all ages ranging from live entertainment and music, children games, movies, activities and rides, softball tournament, street vendors, food booths, pancakes breakfasts, fish fry's, fireworks, weekend windup BBQ and of course bushplane sightseeing flights and aerial performances!
For more information visit Norseman Festival website or check them out on Facebook.
This event provides youth with an opportunity to experience sport fishing.  It is a one day catch and release walleye tournament requiring one adult and two youth.  The fun day is finished off with a BBQ and all youth participants claim a prize!
An event for all ages and skill levels! 
This catch and release fishing tournament is held on Labour Day weekend and hosts 130 boats competing over 2 days for big prizes. 
For more information visit Red Lake Fall Classic website.
This community event wows all ages!  The parade floats proceed around town and finish at the Legion with snacks and treats and a visit from Santa Claus.